Adult Day Care Means . . .
Companionship & Involvement . . .
We Care Adult Day Care Center provides opportunities for individuals to live as independently as much as possible, and continue their involvement in community activities such as: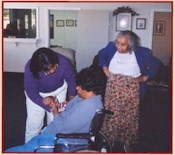 Excursive for Mind and Body . . .
Much attention given to their mental well-being as well as their physical in a group or individually
Health Promotion and Monitoring . . .
Nutritious meals and snacks are provided as well as general health monitoring at the Center.
Caring and Support
We Care Adult Day Care Center hires qualified caregivers and other workers;

There are some on-going training.

Caregivers and all who come in contact with participants will give (individually as well as collectively) respect and attention.

We assure Loved Ones are being cared for in a safe and supportive environment.